English Summary- Chitralekha Gujarati issue dated 2 September'19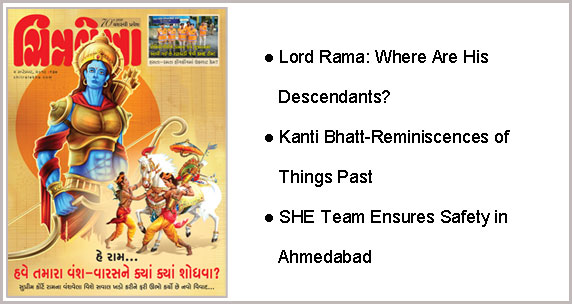 Lord Rama: Where Are His Descendants?
Ever since one of the judges on the five-judge constitution bench that holds a daily hearing on the contentious issue of Ramjanmabhoomi queried if there are any descendants of Lord Rama around, a number of claimants mushroomed, asserting their claims to have descended from the lineage of Lord Rama. Chitralekha Teamcomprising Samir Paleja & Jwalant Chhaya analyses the veracity of these claims by looking at the matter from the perspectives of vedic scriptures as well as history.
One of the first claimants happens to be BJP Member of Parliament Diya Kumari who is a royal member of Jaipur's erstwhile royal family. The former princess claimed that her family descended from Lord Rama's son. Hoping that it might help expedite the matter in the court, she is willing to provide evidence of her family's lineage. In the wake of the princess's assertion, several other claimants too have sprung up, making similar claims about their lineage.
The former royal member Lakshyaraj Singh cited a book by Colonel James Todd and said that though Lord Rama's capital was Ayodhya, his son Lav established his capital in Lavkot (today's Lahore). Over the years, Rama's descendants migrated to Gujarat and settled there and later shifted to Mewad of Rajasthan. They came to be known as Sisodiya Rajput and their capital was first Chittore and later Udaipur.
Their royal emblem has the picture of the sun and this proves their connection with the Suryavansh. Like Lord Rama who worshiped Lord Shiva, the tradition of worshiping Shiva is observed among the descendants of Mewad royal families who worship Eklingji, the Royal member informs, who further claims that his family has already submitted to the courts details of their genealogical tree. On the other hand, the controversial founder of Karani Sena, Lokendrasingh Kalvi has claimed that being one of the Sidodiya, he is the direct descendant of Lav. He went a step further by pointing out that he should be one of the parties to the Ramjanmbhoomi dispute.
The Rajasthan Government's Transport Minister Pratapsingh Kachcharivas also joined thedescendant bandwagon stating that since they belong to the Kushwaha lineage, they are the 380th or 385th descendant of Lav. Not to be left behind, Congress spokesman Satyendrasingh Raghav claimed in his Facebook post that being the Raghav lineage, they are the direct descendants of Lav. In order to buttress his claim, he further stated that they are from a place called Shravasti, which is the same as Sharavati, a state believed to have been given to Lav.
It is however difficult to ascertain the veracity of the above claims. But scholar Shubhvilas who has authored several books including The Game of Life, based on Valmiki Ramayan shares with Chitralekha that the flurry of claims is positive fallout of the ongoing case, as it is now clear that even the Supreme Court who had made this query is veering round to view that the Ramayan is not a mythical but a historical tale.
Adding to his theory, the erudite scholar adds that it has been established beyond doubt that the Mahabharat era existed beyond 5000 years and since the epic is replete with mentions of Lord Rama, it is obvious that theRamayan era existed earlier than the Mahabharat. However, several scriptures consider the Rama phase as belonging to the Tretayug, which is goes back lakhs of years. But since it is essentially a matter of faith, the scholar considers it prudent not to get involved in the chronology of Lord Rama and considers all those who believe Him as His descendants.
Famous Kathakar (Narrator of Ram's tales) Pujya Moraribapu also weighs in in the ongoing controversy by offering what is a simple solution to the contentious issue. His simple logic is that whoever possesses Lord Rama's truth, love and his compassion is eligible to be His descendent. He adds that this is not a matter to be decided by courts but to be accepted by hearts.
In a related cover story Nagindas Sanghvi too lends his voice by revealing an interesting aspect of the epic, as he said that it is astonishing how during different eras and circumstances, the Ramayan travelled to different peoples and blended with different cultures and civilizations  to evolve into new avatars..
Kanti Bhatt-Reminiscences of Things Past
This is the third piece in the series of tributes paid to the veteran Gujarati journalist Kanti Bhatt whose contribution to the field of journalism is unparalleled. Bharat Ghelani, Editor Chitralekha reminisces about his forty-year association with him when he had the opportunity to do several major assignments together. When told that his articles remind one of Kanti Bhatt, the editor felt elated, but Kanti Bhatt pricked his balloon of joy when he said that becoming someone is no achievement. 'You must become YOU', he said, advising the growing journo to develop his own distinctive style.
The heartfelt piece reiterates how warm, disciplined and obedient the legendary journalist was. Despite being senior to the editor, never ever did he argue and always did as instructed.  A piece accompanying the story gives info on how Kanti Bhatt would write his multiple articles.
There won't be another Kantibhai, for sure
SHE Team Ensures Safety in Ahmedabad
 In this unique story, Mahesh Shah writes about a special team to combat the menace of eves teasing in the streets of Ahmadabad. The story traces the christening of the special team as SHE to how the team was constituted and deployed on duty.
For propagation of the idea, Sarah Sharma, a 2010 IPS officer has also sung a theme song which has gone viral and effectively conveyed the message of the SHE TEAM.
The issue also carries an informative story (by Sunil Mewada) on the genesis of ongoing Hong Kong protests.
In his Vyapar Vishva Page, Jayesh Chitaliya advises why it is prudent to study Mutual Funds closely and realize its worth rather than running away from it.
Apart from the above, the issue carries Political & Humour columns, Palak, Cardiogram, Priyadarshini, Novel's new chapter, Health Helpline, Jalsaghar & Mukhwas.
Ishita's Elchi:
There is a similarity between the sage and a mirror. Both accept you as you are but never preserve you..!!
                                                                                                                              Subscribe here: https://chitralekha.com/subscribe/