English summary- Chitralekha Gujarati issue dated 28 January 2019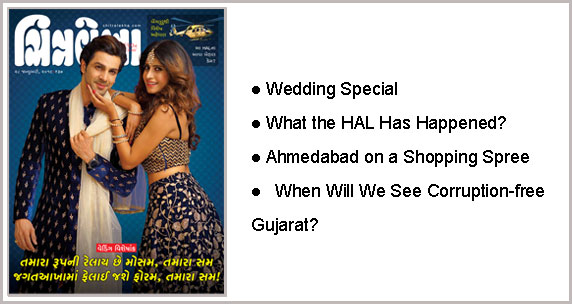 Wedding Special
It is believed that alliance of two souls or soul match is taken care of by someone up in heavens, but once these souls are united, getting them married and that too in style is looked after by the lesser mortals like us. No longer a simple and single-event affair, wedding has now evolved into a multi-dimensional event spread over several days, with each facet being a full-fledged independent event in itself. In order to satisfy the growing needs of its readership to be kept abreast of the current trends prevailing in various facets of wedding, Chitralekha brings out a wedding special every year.
The latest Chitralekha wedding special encompasses everything one needs to know about the multi-layered event, be it about groom or bridal wear, jewellery or makeup. It tells you everything keeping in mind the latest fashion, trends and taste prevailing. In other words, the magazine offers you on a platter the tradition packaged in modern attire. Over the years, wedding has undergone multiple transformations and the publication brings you up to speed with the latest in each sphere.
Bridal make up is the most important aspect of wedding, says Manasi Shroff. The author speaks to Kinjal Joshi, a leading makeup expert who shares her secrets on the latest trends on bridal looks and says that it is makeup that gives a new look to your personality. The current dominating trend is fusion, which is a blend of the traditional with an international feel.
While Devanshu Desai says that diamond is now out of its elitist mode and has gradually replaced traditional jewellery, Jitendra Radadiya talks about the latest rage in wedding season: staging entry that is at once dramatic, impactful and eye-catching. Food is one of the most important aspects of a wedding event, says Jwalant Chhaya, who reveals that traditional, as well as exotic cuisines, do co-exist side by side in a lavish spread on a dining table. While Mona Sheth talks about the trend of return gift as well as imitation jewellery that is fast catching up, Keval Mehta and Ketan Mistry unveil the latest trends prevailing in bridal and groom wear respectively. Last but not least is a piece by Hiren Kumar Bose, who apprises you of various latest models of watches that deserve to be gifted to groom or brides during wedding season.
What the HAL Has Happened?
What happens when you are on the verge of executing your last order and your new order books show no more orders? Given pride of place among the list of Navratna (nine gems) companies curated by the government, Hindustan Aeronautics Limited is ironically passing through this phase. It has no more order to execute and is staring the spectre of its workforce sitting idle as a consequence.
The company that was known as the only unit to manufacture combat plane and helicopter in India is facing rough times after its Rafael order got cancelled. Hiren Mehta examines the predicament the company has recently been passing through. According to him, everything looks fine and hunky-dory on paper with many orders seemingly in the pipeline, but the reality on the ground is grim, insiders confide. The company has had to borrow money last for disbursing salary to its staff and this is evidently symptomatic of the fact that the company is headed towards an uncertain future.
While the article throws light on the hitherto unknown aspects of the company, it also describes at length the seven stages involved in defence contract.
Ahmedabad on a Shopping Spree
Doing something new and in style is the hallmark of Gujaratis. This desire to tread the least charted course is what is leading the city dwellers to a shopping festival in Ahmedabad. Some enterprising Gujaratis thought why not provide the people a full extended festival for shopping and they went about making their idea a reality. Coinciding with the much-publicized Vibrant Summit, the Shopping Festival is going to prove popular among people who will be on a shopping spree for a period of long 12 days from 17 January to 28 January 2019.
Sunil Mewada gives us a sneak peek into the various features of the unique festival.
When Will We See Corruption-free Gujarat?
On one hand, we have the Prime Minister Narendra Modi, known for his strong stance on corruption, while on the other, we have current chief minister Vijaybhai Rupani making an explosive statement that amounts to openly admitting that there is widespread corruption in Gujarat.
Though unusual, it was not a one-off statement, as the chief minister echoed the same observation shortly after making the first statement. First, he said that there is rampant corruption in revenue and police department. The question is where he made these statements just routinely or he was being outspoken about the ground reality?
Mahesh Shah analyses the impact of the chief minister's scathing observations and their aftermath. He also looks at the realities prevailing on the ground in the state.
Hardik Pandya-K L Rahul Fiasco
Coffee with Karan is a popular talk show where the articulate Karan Johar invites celebrities for a cup of coffee and during the conversation that follows, tries to ferret out inside info to spice up the show. For the latest guests, however, Karan's coffee proved very bitter. In a burst of childish immaturity and bravado, Hridik Pandya and Rahul made some misogynistic comments unbecoming of heroes they are seen to be by millions.
Admittedly, Pandya was more at fault than Rahul whose pronouncements on women were not as outrageous as the former's, but both were taken to the cleaners by the commentariat class as a consequence of their crass and insensitive remarks.
However, the BCCI's behaviour too does not make us proud either. Run by the Apex-court appointed committee, the sports body's punishment is perceived to be disproportionate to the crimes these two young players have committed. Of course, their transgressions should not go unpunished, there should be no move to sabotage their young careers in the process.
In addition to making the above observations, Siddharth Chhaya wonders why on earth the coach of the team Ravi Shastri lately seems to be getting away with misdemeanours.
The issue also carries Political & Humour columns, Palak, Cardiogram, novel's new chapter, Priyadarshini, Jalsaghar and Mukhwas.
Ishita's Elchi:
Rather than being mired in sins, it is better to be surrounded by crises..!!
Subscribe here: http://chitralekha.com/subscribe/