English Summary- Chitralekha Gujarati issue dated 1 July 2019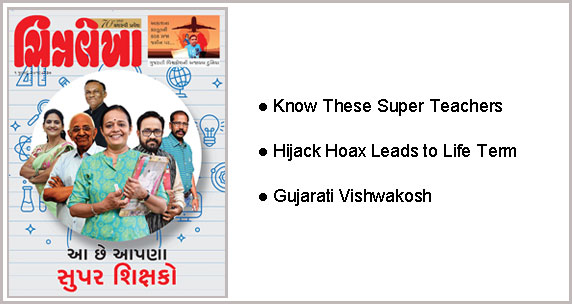 Know These Super Teachers
At the time when Hrithik Roshan's Super 30, based on the maverick mathematician Anand Kumar who prepares poor students for IIT, is set for release this month, Chitralekha team takes a cue from its theme and meets up a few such committed teachers who have made teaching their passion in life. Interestingly, some of these people are not professional teachers, but they derive satisfaction and joy from imparting knowledge to others. Through this cover story (by Hiren Mehta, Faysal Bakili, Sunil Mewada & JItendra Radadiya) we get to know some of these teachers who show the light to others.
The first in the list is Vikram Adsul from Ahmednagar, who has been working with the Bandgar Wasti School for many years. The teacher has done the state proud by winning the National Award for Teachers. The school started in 2003 and got official recognition in next five years, it is another story though that no pukka road has so far been built leading to the school. Adopting a totally modern approach to his teaching, Vikram Adsul integrated even awareness of voting rights to the importance of organ donation in his teaching. He tailored the schedule of his teaching days so that no classes got hampered for the teaching of these nomadic people.
Explaining his mission, Vikram says, 'I could not do much after my studies, because there was no one around to guide us those days.' Why deprive the present generation of this opportunity, Vikram thought and took a plunge.
It was not an easy challenge, as these people are known to be wanderers so he could not teach them regularly. One has to literally bag before parents to send their wards to school. But Vikram persisted and developed a few innovative methods to rope the students in. Innovative in his approach, he sought to teach subjects like Math, language and science with the help of music and theater. Using computer technology, he brought the world closer to these village urchins. With the help of the Internet, he networked with students of other countries and connected them with these boys and girls. In a way, it was not short of a miracle.
Hidayat Syyed of Ahmadabad is akin to Anand Kumar in many ways. When he could not succeed in a competitive exam, he resolved to share his experience with the young generation. Hidayat hailed from a very educated family, but to his utter dismay and pain, he discovered a total lack of self-confidence among Muslim youths for competitive exams.
During the initial phase of his career, Hidayat made a series of mistakes for want of adequate guidance. The experience he gained from his mistakes was put to use when he took to coaching young aspirants from his community. After a great effort, one out of the first 22 students batch got through the public service exams and this is what created trust in Hidayat. He himself admits that people in his community have an entrenched complex that they can never get government jobs. It is a matter of preparations and has nothing to do with which community one belongs to.
In 2006, his efforts grew into a full-fledged educational organization by the name of Sarovar Education Society, which started with 20 students studying in one room. Today it has branched out as far as 14 centers like Dhodka, Dhandhuka, etc. Every year close to 1500 students benefit from these coaching classes and so far as many as 1000 students have succeeded in getting government jobs. Significantly, some of them are working as faculty in Sarovar Education Society. What makes the difference is the total absence of monetary transaction in this institute. Coaching is totally free, as no student has to pay anything for classes. Faculty includes Hidayatbhai and his close associates, former students, etc. The money for study materials etc is managed from a Trust.
The cover story talks about many such committed people who have made a difference in life by teaching others how to do it.
Hijack Hoax Leads to Life Term
A Mumbai jeweler had to pay a heavy price for leaving a hijack threat note on a Jet Airways plane in October 2017. A Special National Investigation Agency court recently sentenced the guilty to life imprisonment and imposed a fine of Rs 5 crore on him. The Mumbai businessman Birju Salla was accused of creating a hijack scare by planting a threat note written in English and Urdu in the aircraft's toilet on October 30.
In this report, Ketan Mistry pertinently asks if the punishment meted out to the businessman is a welcome example to deter any future crime of this nature, or the sentence is far greater in proportion to the crime committed.
Gujarati Vishwakosh
Gujarati Vishwakosh Trust has recently brought out a set of three Gujarati Vishvakosh-encyclopedias for the propagation and spread of Gujarati language. Active for the past 34 years, the Trust has been periodically publishing encyclopedias on various subjects essentially to popularize the Gujarati language.
Mahesh Shah files this report on the commendable work done by the Gujarati Vishwakosh Trust.
A Century That Stands Apart
We had reported a few weeks back about our ace political commentator Nagindas Sanghvi having stepped in his 100th year. Last week, a grand felicitation function was organized in Rajkot to honour the centurion political analyst and author, in presence of august gathering that included renowned Kathakar Moraribapu, Union Minister Purshottam Rupala, Kundan Vyas, Ajay Umat, Mayor Bina Acharya, Kaushik Mehta, Chitralekha MD Maulik Kotak, editor Bharat Ghelani and so on.
Jwalant Chhaya reports on this unique event.
Meantime, Chitralekha feels happy to share with you that a long wait for a new Humour column is finally over. In order to fill the void created by the demise of Tarak Mehta and his Dooniyane Undha Chashma that ran for 48 years, your favourite magazine has finally roped in Lalit Lad, more popularly known as Manu Shekhchalli for a brand new Humour column. Significantly, this is arguably the first time a writer is reviving the popular character Karsankaka, who was first conceived and developed by founder editor Vajubhai Kotak. It is fervently hoped that the second modern avatar of Karsankaka too will regale the readers as much as he did seven decades ago.
In his Vyapar Vishva Page, Jayesh Chitaliya probes the corporate conspiracy that has gripped the market recently. On one hand, we have auditors whose performances warrant finger pointing at them, while on the other, whistleblowers too are playing a significant role. In his Digital Duniya Page, Himanshu Kikany coaches on the new Authenticator App that ensures greater safety and security in online transactions.
Apart from the above, the issue carries Political & Humour Column (inaugural episode), Palak, Cardiogram, Priyadarshini, Novel's fresh chapter, Health Helpline, Jalsaghar and Mukhwas.
Ishita's Elchi
It does not matter much if a gentleman fails, but it is a matter of great concern if a rogue succeeds..!!
                                                                                                                                          Subscribe here: http://chitralekha.com/subscribe/