English summary- Chitralekha Gujarati issue dated 25 March 2019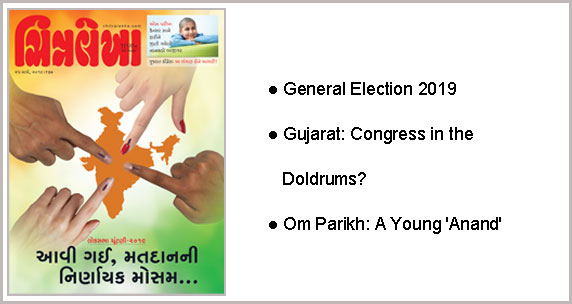 General Election 2019
After weeks of anticipation, dates for India's General Election 2019 have finally been announced. The marathon electoral process will be held in seven phases from 11 April to 19 May. For all its flaws and faultlines, India's general election process is something all Indians are proud of. In fact, one should be grateful to the makers of our Constitution for making provision for such a grand festival of democracy that the whole world looks at with a sense of awe and admiration. Our politics may be flawed, our politicians may be imperfect, but our election process makes our country stand out in the world. A two-part cover story in Chitralekha looks at the complexities of the elaborate process that will decide the fate of India in next few weeks.
The first part (by Nagindas Sanghvi) looks at the history of Indian elections. The author states that our election system has been a steadily evolving process and the maturity witnessed today in its near-perfect execution is fallout of the gradual coming-of-age process the system has undergone in the past seven decades. After the decision to make the country a democratic republic was taken, there were differences over who should have voting rights, as a section of members felt that the right to elect leaders should not be vested with illiterate people. Nehru's intervention at this juncture broke the impasse when he asserted that every adult should be given this right. It was a leap in darkness, as nobody had any idea as to how it would play out, he put it .
With an objective to keeping election separate from politics, the constitution committee provided for appointment of 1 to 3 election commissioners. For the first four decades, we had only one election commissioner. A very complex process of preparing voters list was undertaken and people reluctant to have their names registered in government books were cajoled to part with their personal details. Conservative women in some states put up firm resistance to this move. All efforts to bring them around failed and the first list of voters was readied without the names of as many as 75000 women. This gives us an idea as to the kind of resistance the framers of the Constitution encountered during early days of Independence.
The story carries some interesting and least-known details about our election commission and also how it became a torchbearer for neighbouring countries.
The second part (by Samir Paleja) deals with the extensive and often cumbersome preparations that precede the general election in India, besides touching upon a few milestones achieved by the commission. The onus is now on the people of India who will decide the future of our country for next five years. Contests for 543 Lok Sabha seats will be fiercely fought and the outcome of the electoral battles fought in seven phases will be announced on 23 May, 2019. One may think that the contests will be confined to a few known political parties, but the story shares an interesting bit of information that as many as 2293 political parties are registered with the Election Commission, not all of them are duly registered though. Most of them are of questionable credentials and such parties appear only during the elections and vanish once the polls are over.
We are told that there are only seven national parties in India, which include Indian National Congress, Bharatiya Janata Party, Trinamul Congress, Bahujan Samaj Party among others. There are criteria a political party has to fulfill to earn the status of a national party. If a party is recognised in four states, it can be called a national party. If this condition is not fulfilled, any party having won four Loksabha seats and securing 6 percent votes in four states is also eligible for this status. Even if it wins 2 percent of Loksabha seats in three states, it becomes a national party. There are not easy conditions and this is why Lalu's Rastriya Janata Dal and Mulayam's Samajwadi party are still regional parties. Incidentally there are 51 parties that have got recognition at state level.
The story carries some fascinating snippets of information regarding our election process. Besides, there is a table that offers interesting statistics on various aspects of polls, like number of first time voters, number of women voters etc.
Reading the cover story before you cast your vote will be quite helpful.
Gujarat: Congress in the Doldrums? 
Poaching in rival political parties began in Gujarat much before the General Elections dates were announced. Battle lines are clearly drawn and no opportunity is missed to score political points. In this area, the BJP launched its first salvo when a mini-exodus was engineered in Congress and before the Code of Conduct kicks in, three prominent Congress leaders joined the BJP. Political pundits feel that the oldest political party ought to introspect why senior leaders prefer to desert the party.
As the election dates near, more such fireworks on this line will be witnessed in political arena, says Ketan Trivedi in this report.
Om Parikh: A Young 'Anand'
It all started with an innocuous headache but ended in a deadly disease called cancer. Living in Monroe in Philadelphia, Om was a spirited and lively child whose endearing demeanour made him a darling among people close to him. in 2015, he was detected with a rare disease that initially manifested itself in an ordinary headache. For three long years the thirteen year old Om waged a lone battle with the monster with a smile  on his face, says Ketan Mistry.  Often he bragged that he was special to have been struck with a rare disease.
The charming boy was so popular that the UTube sensation Roman Atwood fulfilled his wish (conveyed through Make A Wish Foundation) by visiting and paying hours with him. Om breathed his last in February 2018, but his death created an awareness among people who knew the family.
In his Digital Duniya Page, Himanshu Kikany teaches you how to save your pix/videos in an album on your device.
Meantime, Chitralekha wishes its ace political commentator Nagindas Sanghvi for having stepped into his 100th year this month. Congratulations to the centurion..!!
The issue also carries Political & Humour Columns, Palak, Cardiogram, Priyadarshini, Novel's fresh chapter, Health Helpline, Jalsaghar and Mukhwas
Ishita's Elchi:
'Words do not hurt man, unless of course, you throw a voluminous dictionary at him..!!'
-Essence of a woman's experience
Subscribe here: http://chitralekha.com/subscribe/